Resale flats are in huge demand and its popularity never ceases. The reason behind is the easy availability as the flats at times are in surplus. It gives enough opportunity for the sellers to enjoy with good prices of resale. Gaur City 1st Avenue resale flats at Greater Noida West gives you an opportunity to buy homes within better develop region. It adds with many upcoming factor that is seeing huge development in this region. The area is not only concentration of malls, multiplex and educational institutes but the inclusion of Jewar Airport has change the entire scenario. Every other day a new memorandum is sign, tenders are coming up and what else do you want? The entire region from Greater Noida, Greater Noida West and Yamuna Expressway is rising up with huge expectations of something new to happen.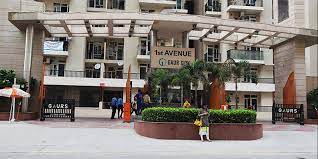 These all factors must certainly sound great as per your expectations. It is always good to go with the flow and enjoy the success by creating new milestones. With Gaur City 1st Avenue Resale Flats opening up with good to buy price list it is the best time to buy. The residential projects are flourishing but for the mid size buyers who looks for affordable property the resale flats to buy remains the option. It is because most of the new projects are opening with higher prices and the flats which were once in lakhs are coming up in crores. This is the scenario of the property prices. But all those who wish to get more out of the property with a little less time and look for immediate possession. Then certainly these projects are more than a welcome way to own homes.
Gaur City 1st Avenue resale flats has the same amenities, better specifications and an enrich lifestyle. It makes you feel proud about your purchase as the amenities are in huge numbers. Lets count and feel it now along with some highlights. It is a futuristic township that is spread in area of 125 acres of land. It is with approximately 45 acres of land and is as  green area development. It adds with parks, open space, play grounds. The development has best of the roads and public parking with good sports facilities. It adds with green and open areas that makes it one of the well develop housing project. To add more to the development it has architecture by RSP, Singapore. The beautiful landscape makes the project looks not only in sync with nature but is also with futuristic feel. It has necessities as swimming pool, club that is radiant and with features as cafe, gymnasium, billiards, snooker and cards.
Gaur City 1st Avenue resale includes some necessary aspects that fulfills your needs. It has sports facilities, football, cricket academy, sports indoor and outdoor. It adds with banquet halls for sports facilities, play school with creche and senior secondary school with CBSE affiliation. It adds with hotels, office spaces and service apartments. It makes great choice for buyers and investors. Express Astra Laction Map, Mahagun Marina Walk Price List, Tata Eureka Park Price List.