ATS Destinaire Price List gives you the opportunity to buy great residences at affordable prices. With the festive season coming up with good residential buying option it is just the right time to enjoy best of the residences buying. The reasonable pricing and huge demands have been club together to get the right property. ATS Destinaire stands to be one of the best property that makes it easy to buy 3 BHK starts from Rs 1.25 Crore onwards. ATS Destinaire comes as residential apartments with location at Sector 1, Greater Noida West. It has homes with sizes of 1900 sq ft to 2550 sq ft.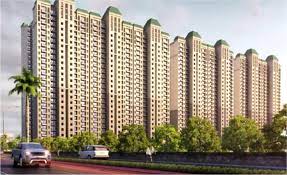 ATS Destinaire has homes with 3 BHK + 3 Toilet + SER with size of 1900 sq ft. It adds with ATS Destianire price list of Rs 1.05 Crore. It has 4 BHK + 4 Toilet + SER with area of 2550 sq ft and price of Rs 1.40 Crore onwards. It is one of the premium low density project with prime location and connectivity that makes it easy to reach all parts of Delhi-NCR and beyond. The project has best of class amenities and has high end specifications and by ATS Builders it makes promising development. The residential project has earthquake resistance structure that makes it easy to resist tremors and makes you feel safe. The residences offers premium luxury and is well design making it one of the comfortable place to live.
ATS Destinaire is within 5 minutes distance from Sector 78 metro station. It adds with multipurpose sports ground that makes it friendly for kids. It has 4.78 acres of forest which is develop using Miyawaki technique. It has approximately 30 times more trees planted which is compare to conventional plantation techniques. All apartments faces central greens and adds with spacious along with sunny apartments. The project is just next to Central Noida that comes with upcoming Greater Noida metro connectivity. It is residential project with location at Sector 150 Noida. The project has three bedroom and four bedrooms with residential spaces that gives an elevated lifestyle with great fulfillment.
ATS Destinaire is spread in area of 8.24 acres. It has total number of towers as 14. The total number of units is 760. The project adds with UP RERA registration. It has one of the beautiful architecture that is by eminent architects and adds with lush green surroundings that makes it with beautiful landscape. The residents adds with comfortable and happy living that lets you enjoy with pristine glory of residents. It adds eco-friendly measures such as sewage treatment, rain water harvesting and many other such initiative that makes it a great project. Noida Project: Gulshan Dynasty.
ATS Destinaire Price List makes it ideal for investment options. The project has amenities as Clubhouse, banquet halls, coffee lounges, restaurant, gym. It has library and business centre, indoor squash and badminton court, movie theatre. There is multipurpose hall, outdoor tennis court, half basketball court, cycling, jogging tracks, yoga and meditation area, swimming pool. It has amphitheatre and skating rink that lets you enjoy great time.   New  launch  commercial  project: Trehan Iris Broadway Price List