Saya Homes Pvt. Ltd. is one of the renowned property giants, which is trending in the real estate sector since 2010. The company has corporate identification number (CIN) U70101DL2010PTC211055 and its registration number is 211055. Apart from that, the company has its annual shared capital up to Rs. 2,500,000 and its paid capital Rs. 100,010 as well. With these figures, you will come to know about the progressing record of the giant that is growing with passage of time. Hence, the company has plotted the pathway of its success and is working positively to built robust and world-class homes and commercial properties for buyers across Delhi/NCR.
The directors of Saya Homes Pvt. Ltd, are "Mr. Bhasin" and "Mr. Vipin Manda". Both have vital experience in the real estate sector and have good knowledge of developing world-class constructions in residential and commercial sectors. Thus, the owners of the company are giving right navigation to the organization to grow in the real estate industry with positive aim.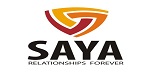 Being a non-profit private concern, Saya Homes Pvt. Ltd., has been achieved biggest milestones in the past few years by developing many high-rising residential and commercial projects for buyers across Delhi/NCR. Over the years, the company has been launched many sought after residential project named as Saya South X Food Court Price, Saya Gold Avenue, Saya S Class, Saya ZION, Saya Zenith, and so on. Apart from that, the giant has also been completed few commercial projects that conclude commercial buildings and shops too. All in all, the company is getting immense popularity through its world-class construction projects in both residential and commercial domains for home seekers and business freaks as well.
Saya Homes Pvt. Ltd., is progressing well in the competitive real estate sector and has been recognized as a promising developer in the industry. Moreover, the giant is also involved in real estate activities like sale and purchase of land or property, residential and commercial buildings, apartments, shops, hotels, and many more. Thus, the company has good approach in every area of real estate domain and has rich experience in sale and purchase of both residential and commercial properties at affordable prices.
Talking about the standard of completed residential projects of Saya Homes Pvt. Ltd., the giant has provided with all sorts of housing facilities in its housing projects. The giant has given ultra-modern design to its renowned residential projects and has made them robust as well as earthquake resistant too. The company has been developed standard apartments in its residential project under the ranges of 1BHK to 4BHK. All types of apartments possess magnificent look from interior to exterior end and are versed with the best housing facilities such as kitchen, hall, balcony, bathroom, bedrooms, doors, windows, etc. Thus, the giant has made all its residential projects good enough to live for all small to large size families with ease.
So, if you are looking for modernistic and affordable homes in Noida, Greater Noida, and Delhi areas, you should contact to the Saya Homes Pvt. Ltd., and check out its world-class residential projects of the giant or navigate the official website of the developer. The price rates of all ranges of apartments and villas of the company are also under the budget