Commercial space is available @ Gaur World Street Mall, located in Noida Extension Sector, 16B and to be clear you can drive to the place form Wave City Centre within 10 minutes. This Mall has been desgined and developed according to the topography as it has quite a few residential projects housing sizable volume of population with buying capacity.   The modern and urban makeup of the populace around here makes the Gaur project a successful business prospect and you could be part of it by booking a shop or kiosk at easily affordable rates of Rs.20 Lac onwards.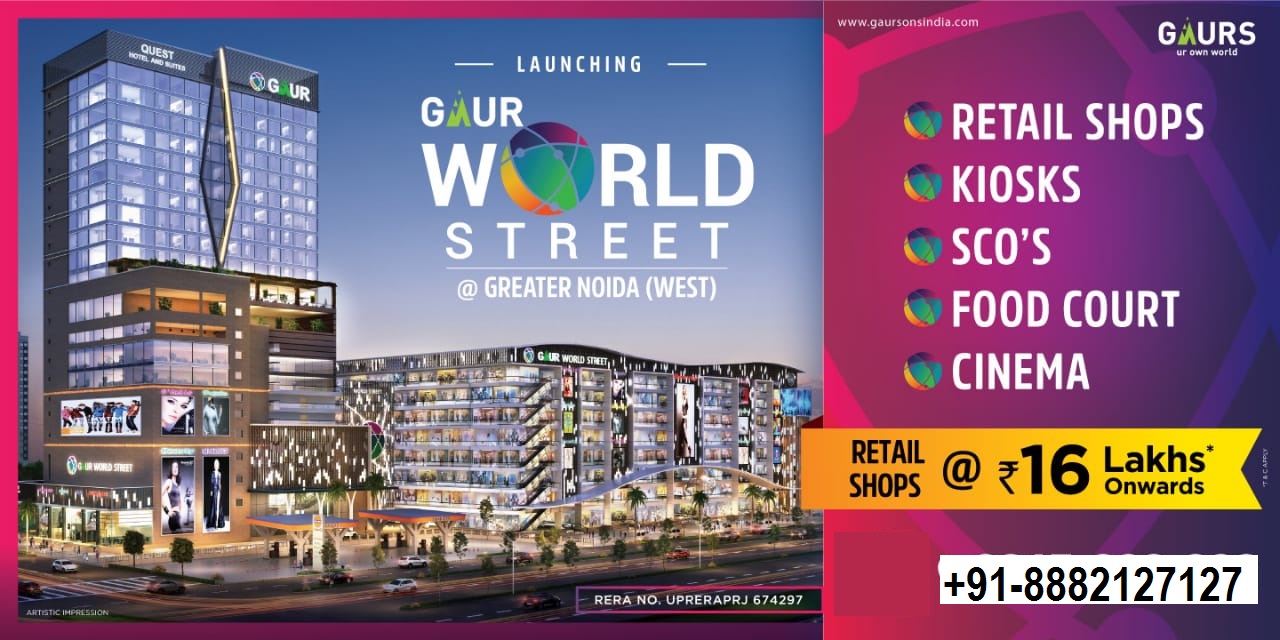 The commercial project by Gaur Group is strategically located on the fringe of Taj Expressway and near the most prominent landmark Gaur Chowk. Gaur City Center and Gaur City Mall is just 300-meters away and is already a thriving success in the region. Gaur World Street Mall is under construction project and is situated between the two primary roundabouts of Great Noida West, the Kisan Chowk and Buddha Chowk. Spaces available for commerce would include shops, kiosks, food court, offices and entertainment space, multiplex, and retail shops. Whichever realm of business you belong to you have the right platform at the Gaur's commercial venture as it is likely to attract more than 5 Lac people living nearby. This is fantastic customer pocket you cannot simply ignore and the best opportunity to start or expand business.
A proposed metro station is in the offing which will facilitate customer movement from and to NCR and other adjacent areas. Noida city center is just 11kms away and the project sits prettily on a 130-meter wide road. Wide spaces for customer moments, visitors lobby, lounge, toilets, spacious car parking, and fast moving lifts and escalators for ferrying customers throughout the complex are the necessary amenities provided by the builder. The project is being built with future developments in mind and it has quite a few Gaur residential projects and other builder's residential societies coming up. Investing now is going to pay rich dividends in the long run and the investment is not going to cost you a cargo ship.
3-tier security, 24x 7 power supply, maintenance staff, fire fighting system, gym, and indoor games are other basic facilities provided by Gaur World Street Mall. The entire area where the mall is located is developing in to a high profile lifestyle junction where people from all wakes of life are likely to visit. Book your space now as financial options are available with few high profile banks taking keen interest in the project.