Gaur city is a project which has most attractions in the realm of resident building activity near Capital Delhi. Because it is a Gaur project and it will have everything you want to live comfortably and luxuriously without sacrificing on nature and its benefits. It is actually a Twin Gaur Project as the Gaur City 2 is fast developing. Gaur City Noida has been awarded as an integrated township and the nature of living standards and the easy access to connectivity to major thoroughfare only confirms that fact. You will not find a better settlement than this sleek and savvy mini-town if you are pondering over the idea of buying a house near Delhi.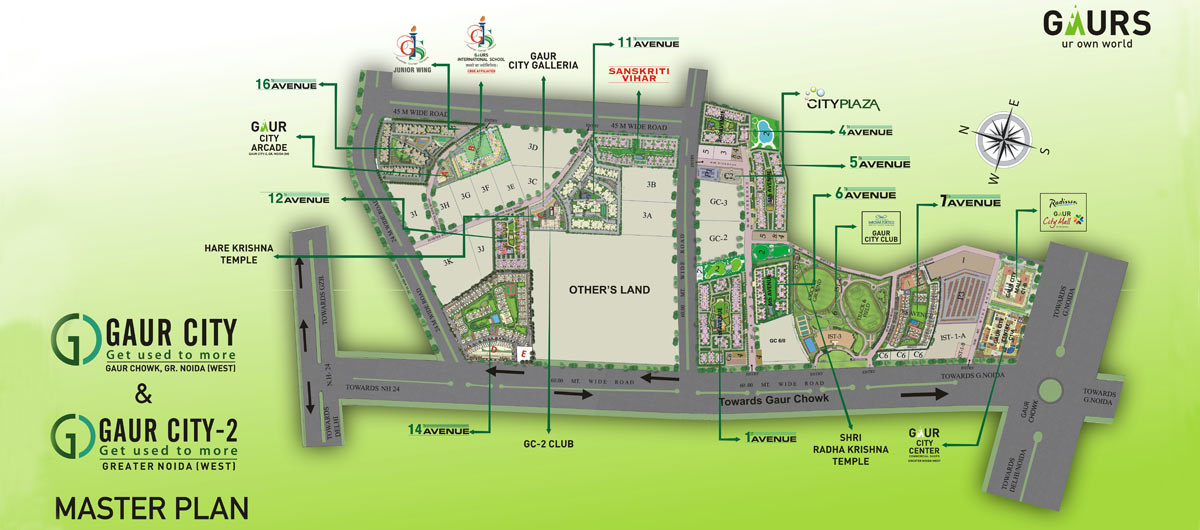 Reasons why you should buy a home here in Gaur City?
Gaur City is first of all being developed by a nationally reputed builder who has delivered similar projects all over India. Secondly the place combines the two factors comfort and health rather well, which actually could be the reason why you should be pitching for a home here.
Gaur City finds itself on the edge of NH-24 which opens the way for several highways and arterial roads leading to the various points of NCR, capital Delhi and rest of Uttar Pradesh. The national highway is just 2.5 kms from the Gaur City and the 14-Lane road is progressing fast

Sector 32 Metro Station is just 7 kms away from the city and Delhi border is 9.5 kms away

A proposed Metro Station is fast upcoming

Within the Gaur City you have a mega sports complex, convenience shopping, school, multi-facility club, multiplex, hospital, hotel and offices.

A temple, multi-level parking, dispensary, commercial complex in the form of City Plaza, and City Galleria and a police station to boot
The Gaur International school is CBSE affiliated and is convenient for enrolling your children and the 9-screen multiplex is up coming and the Radha Krishna Temple is already established and functioning.  The entire complex is groomed with plants and lush green lawns and the numerous walkways ensure that residents span distances in a green environment furbished with healthy air. Fitness regimen is given big priority with the sports city within and the different regimen of yoga & meditation, swimming, jogging track etc.
Gaur City offers quality accommodations in the form of 2,3 and 4 BHK apartments that are being made available at affordable prices. The price range Rs. 28 Lac to Rs. 62 Lac is quite affordable for all classes and the pitching in of several financial institutions and banks will make your purchase easy with easily affordable EMI rates. The Gaur City 1st Phase is move-in but you still have a chance to get in. Gaur City resale flats in noida extension 1,2,3and 4 BHK flat are available.