Gaursons is creating history in the realm of real estate sector by developing world-class residential projects for home buyers. Usually, the giant has been launched many top-grade residential projects across the Delhi/NCR. For instance, Gaur Atulyam is one of the sought after residential projects of Gaursons, which has gained immense popularity in the market. This ultra-modern housing project encompasses brilliantly designed apartments in 2BHK, 3BHK, and 4BHK ranges. The developer has built-up all A partments full of living comforts such as hall, kitchen, bathrooms, bedrooms, lawn, balcony, etc. Moreover, the whole building has made earthquake resistant too. It is not over, the apartments are spacious and their sizes may vary between 88.72 sq. mt. to 154.68 sq. mt. as well. Besides, the apartments have made full of air or completely ventilated too.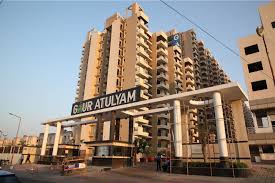 Gaur Atulyam Resale Price is a dream project for those, who want to buy reasonable apartments at the best location of Greater Noida. This awesome project is also located at sector—1, Omicron, Greater Noida, West. The project location is easy to approach via road and gives proximity with some necessary points like hospital, school, bus stand, colleges or institutes, shopping mall, metro station, etc. Besides, the project location is also approachable through every corner of Delhi, Ghaziabad, and Noida as well. Moreover, you will get facility of local transportation and highways close to the site project location too. Thus, the project is based out at the perfect location in Greater Noida that is suitable place to live with family.
One will also be amazed to find some useful amenities in Gaur Atulyam such as club house, water supply, jogging track, gym, swimming pool, garden, car parking, tennis court, badminton court, intercom, lift, CCTV, etc. Besides, the developer has also been provided some more benefits at project site such as drainage and sewage systems, garbage collector, mini-theater, rain harvesting, water treatment plant, etc. All in all, you will find this project full of facilities that will surely entice the buyers.
Gaur Atulyam offers highly affordable apartments that will surely life under the budget of common buyers.  The estimated prices of apartments in this project may lie between ranges from 27.69 Lacs to 65.00 Lacs. Thus, it would be a good opportunity for home seekers to book for apartments in this brilliant housing project and live life happily with dear ones. For more details about project and prices of apartments, you should visit website of Gaursons. Gaur Yamuna Expressway Project : Gaur Yamuna City Villas Price